cheap galvanized pipe fittings
Galvanized pipe fittings are covered with a layer of zinc material to make the fittings more corrosion resistant. The main use of galvanized pipe fittings is for fluid pipe connections. Zinc also prevents the build-up of mineral deposits that can clog water lines.
Galvanized pipe fittings are machine-made steel pipes with galvanized exteriors (there are also galvanized interiors and exteriors, as well as galvanized exteriors and plastic-lined interiors). Generally used in urban drinking water supply, fire water supply, industrial water supply, heating water supply, or industrial pipeline. Or it can be used with grooved pipe fittings for outdoor rainwater drainage of high-rise buildings.
There are many different malleable iron fitting types available depending on the application they are required. Pipe fittings are available self-colour (black malleable fittings) or galvanised finish and include:
Elbows,Tees,Crosses,Reducers,Sockets,Nipples,Plugs,Caps,Nuts
Browse our wide range of galvanized malleable iron fittings. Whether you need a few items to finish off an existing system or want to overhaul and start again, we have everything you need in all shapes and sizes and because we are a galvanized pipe fitting manufacturer, we have cheap prices and bespoke service. If you can't find what you're looking for, be sure to send us an inquiry via our Contact Us page. For a list of available products and specifications, please see below.
cheap galvanized pipe fittings
cheap galvanized pipe fittings list
Threaded galvanized pipe fittings - BSPT
galvanized malleable tees - BSPT

galvanized 90 degree elbow - F&F - BSPT

galvanized Malleable Hex - Male BSPT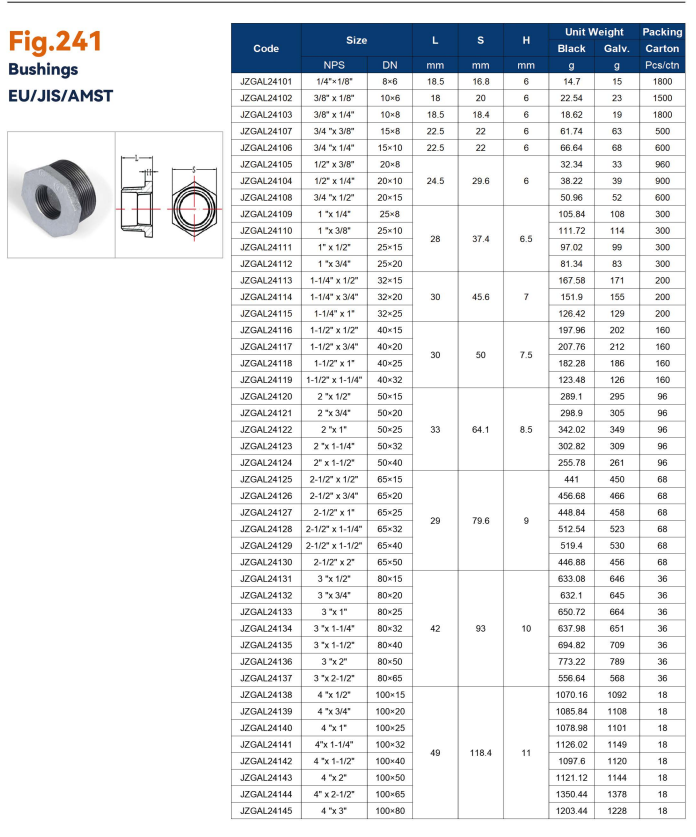 galvanized 45-degree elbow - F&F - BSPT

galvanized cap - BSPT

galvanized Malleable Plugs - BSPT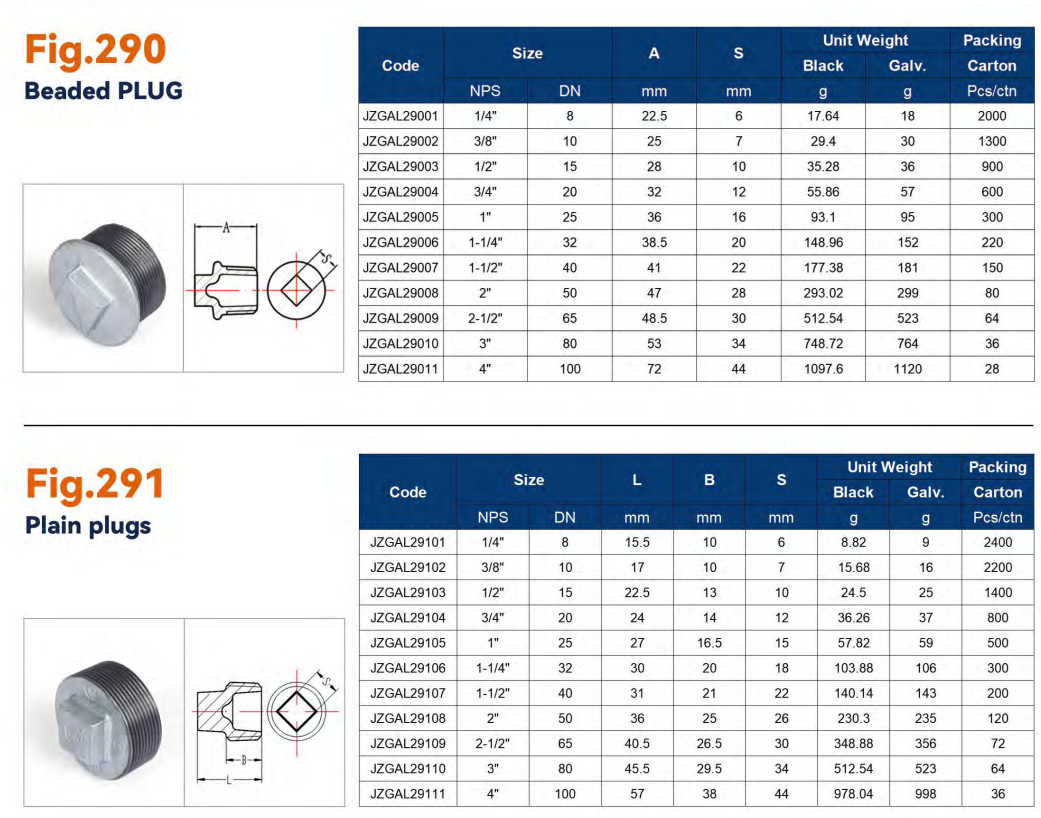 galvanized Reducing Tee - BSPT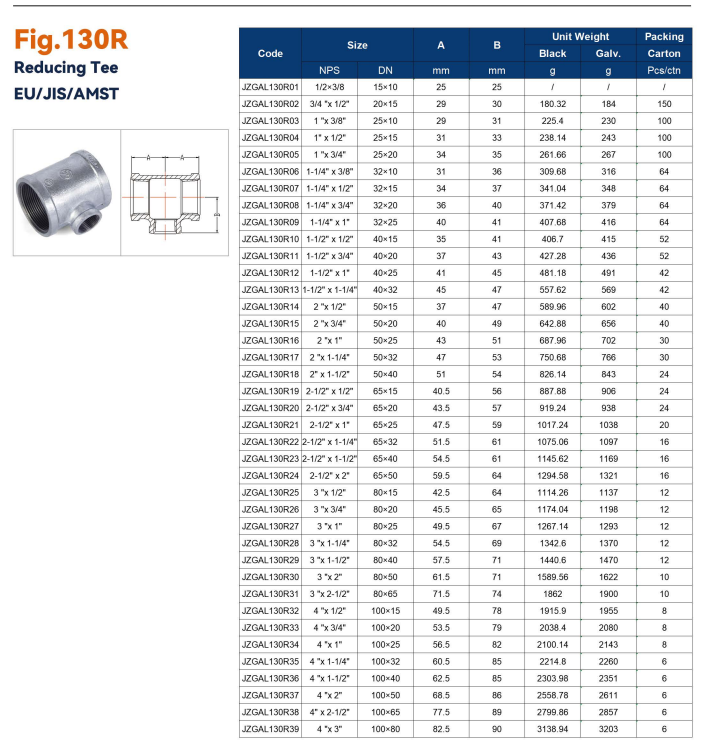 galvanized Reducing Bushing - BSPT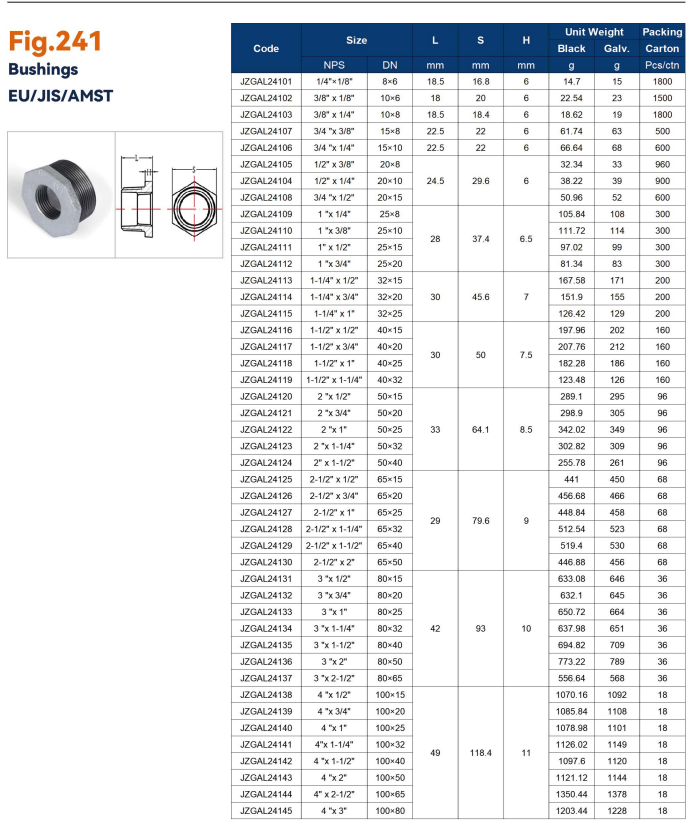 Jianzhi Group is a professional supplier of malleable iron pipe fittings and grooved pipe fittings, serving the world pipeline system solutions since 1982. As a leading manufacturer, stockist and supplier, our technical team understands what you need. Therefore, we can help you find the most appropriate solutions for both your regular and specific requirements. We manufacture and supply a wide range of fittings, including galvanized threaded fittings and black threaded fittings. We export to various parts of the country such as South Africa, Canada, Vietnam, UAE etc.