Maximum Pressure: 25 BAR (363PSI) (2.5MPA) CLASS 150
Maximum Temperature: 200°C (392°F)
Tensile Strength: 350MPA
Hardness: HB150 (Brinell)
Elongation Rate: 16%
Suitable Applications: Water, Oil, Gas, Petro-Chemical
Material: Malleable Iron
Pipe fittings are available in various shapes, sizes, and materials. Used to connect pipes of different lengths and sizes, these pipe fittings and flanges should make the right connections. Pipe and pipe-fittings are produced from various materials for the transport of a wide variety of solids and fluids. The wrong pipe fittings can lead to many problems like:
-leaks
-unwanted flow restrictions and
-extra cost
The proper pipe fittings and flanges let your equipment do the work that you intend it to do. The various types of pipe fittings include adapters, bulkhead fittings, plugs, rigid couplings, flexible couplings, 90 degree elbows, 45 degree elbows, reducing elbows, flanges, nipples, concentric reducers, eccentric reducers, side outlet tees, standard tees, reducing tees, bullhead tees, unions, standard wyes, reducing wyes and many more. You should select the right fitting for your application among the wide range of fitting types and sizes offered.
Common points to consider:
The integrity of any fitting for proper functioning depends upon the following:
Selection of correct components or fittings appropriate for the application
Careful preparation and cleaning
Careful installation and assembly
Correct tightening and loading
Selecting Your Pipe Fittings:
The points to consider are as follows:
Consider the Tubing Used: For instance, barbed fittings work better in flexible tubing while compression fittings work best with rigid tubing.
Determine Material Compatibility: Material selection plays a vital role in the proper working of fittings. There are certain fluids that are not compatible with fitting material and these fittings cause leakage or system damage. It is very essential to check the material compatibility of your fluid with any chemicals.
Check Temperature and Pressure Conditions: Appropriate temperature and pressure ratings are needed for proper operating conditions. It is necessary to know whether the fittings are capable of performing at their maximum temperature and maximum pressure ratings because most fittings cannot perform both the task simultaneously.
Pipe Thread Sizes:
This is a very important consideration for any pipe fitting. All pipes were manufactured with the specification of a standardized outside diameter (OD) and wall thickness which in turn implies that the nominal pipe size is approximately equal to the inside diameter (ID). Nowadays, various thread configurations are used. We give below an example of British Standard Pipe (BSP) fittings for connecting systems that use both NPT and BSP thread configurations. The table shows a comparison of these two thread styles.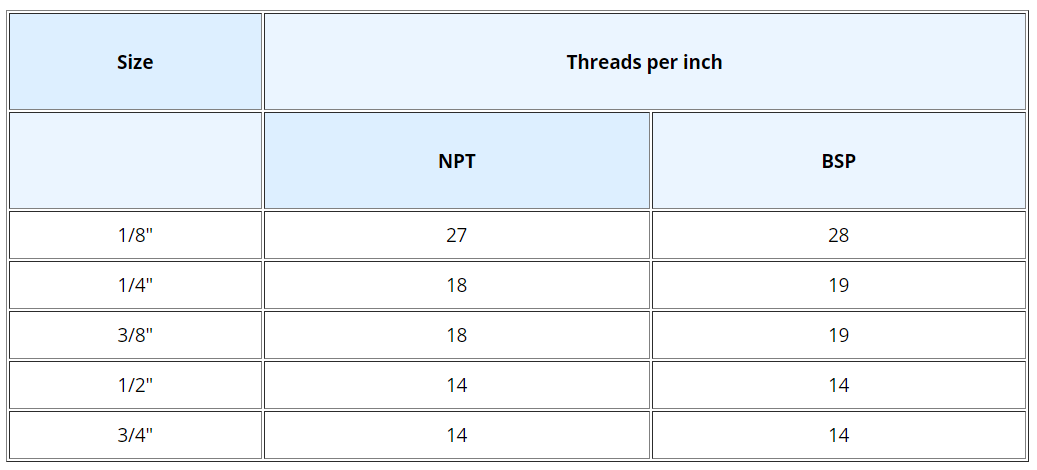 To sum up: Selection criteria for buyers:
Materials
Pressure Ratings
Design and operation
Safety information
Temperature
Buyer's assistance:
Before purchasing pipe fittings and flanges, certain questions need to be answered for that particular pipe fitting and the manufacturer who is manufacturing that particular fitting. Some of these questions are as follows:
Can it handle the pressure?
Can it handle high temperatures?
Does it have proven long-term performance?
Are the joints or seals reliable?
Can it be fitted properly?
Does it have the confidence of manufacturers?
Can it withstand outdoor storage and ultraviolet rays?
Can it resist punctures and abrasion?
Does it have widespread approval and acceptance from inspectors and engineers?
Does it have quality and value?
The more the number of "YES", the better is your product