Maximum Pressure: 25 BAR (363PSI) (2.5MPA) CLASS 150
Maximum Temperature: 200°C (392°F)
Tensile Strength: 350MPA
Hardness: HB150 (Brinell)
Elongation Rate: 22%
Suitable Applications: Water, Oil, Gas, Petro-Chemical
Material: Malleable Iron(black and hot-dip galvanized versions)
Black Iron Union Fittings
Overview
Combined fittings for joining two pipes
Female threaded National Pipe Taper (NPT) for joining two ends of a male thread
Made of durable black malleable cast iron with tensile strength
National Pipe Taper (NPT) threads to produce a tighter seal than straight threads
Black finish for rust resistance in oil and gas applications
Do not use with potable water
Details
The union refers to the threaded pipe connector, which is the most common kind of pipe fittings in industry and life. Threaded couplings make pipe connections simpler and easier to disassemble and replace, greatly saving the cost of pipe connections.
Industrial use of threaded connector is generally made of metal, high pressure, materials have carbon steel, stainless steel, alloy steel, brass, etc.; Life with thread live joint materials are generally PC, PVC, PE and so on Technical indicators Connection mode: BSP external thread ×BSP internal thread.
Therefore, the quality of the screw thread directly affects the quality of the whole product.
In terms of the appearance of malleable steel pipe fittings, the wire buckle cannot be inserted into the pipe wall. On the one hand, it will affect the appearance of the pipe fittings, but more importantly, the pipe wall at the buckle is too thin, which seriously affects the quality of the pipe fittings.
When the pipe fitting is placed in the machine tool, the thread is misplaced. It is easy to cause pipeline dislocation and deviation during installation, which seriously affects project quality.
Buckling and deflection buckles are important quality problems in the process of pipe fittings die design and tapping.
Material quality can be found in the thread. The malleable steel pipe fittings made of good material have good mechanical properties, toughness, and cutting performance, so after mechanical tapping, the thread should be smooth and free from scraping. And after the sealing oil is wiped, there will be metallic luster.
Malleable Iron Pipe Fittings
TYPE: 90's, 45's, Tee, Cross, Caps, Couplings, Reducing Couplings, Bushings, Plugs, Unions
Malleable iron pipe union fittings, also called black iron fittings, are available up to 6 inch nominal pipe size, though they are more common to 4 inches. Malleable fittings include elbows, tees, couplings and floor flange etc. Malleable iron pipe fittings are lighter fittings in 150# and 300# pressure class. They are made for light industrial and plumbing use up to 300 psi. Some malleable pipe fittings such as floor flange, lateral, street tee and bullhead tees are not commonly available in forged iron. Malleable iron offers more ductility that is often required in light industrial use. Malleable iron pipe fitting is not good for welding (if you ever need to weld something to it).Malleable Iron Fitting and Threaded Pipe Fitting differ in material metallurgy, pressure class and application . It is important to select appropriately between them for the intended application.
Buy Pipe Fittings online from chinese leading Malleable Iron pipe fitting manufacturers, suppliers. Best Online, available for next day delivery at malleable iron pipe fittings price!
Jianzhi black malleable iron pipe fittings
The malleable iron pipe fittings produced by Jianzhi Casting Group have the advantages of good toughness, good shape thickness, accurate Angle, full smooth and precise thread, and long thread. As a black malleable steel pipe fitting manufacturer for 40 years, we have a wealth of production experience. We start from raw materials, and constantly improve the production process, the strict production inspection process, and strive to do better products.
Jianzhi Casting Group adheres to a strict and responsible attitude in every process from raw material procurement to mallet steel pipe fitting production. For customers to produce material, the excellent performance of malleable steel pipe products. The company insists on temperature measurement and composition inspection for each package of molten iron, and five times inspection and water pressure test for the whole production process of malted steel pipe fittings.
For each batch of malleable steel pipe fittings, the company carries out material destructive sampling inspection, including raw blank crushing sampling inspection, ripe blank flattening inspection, etc.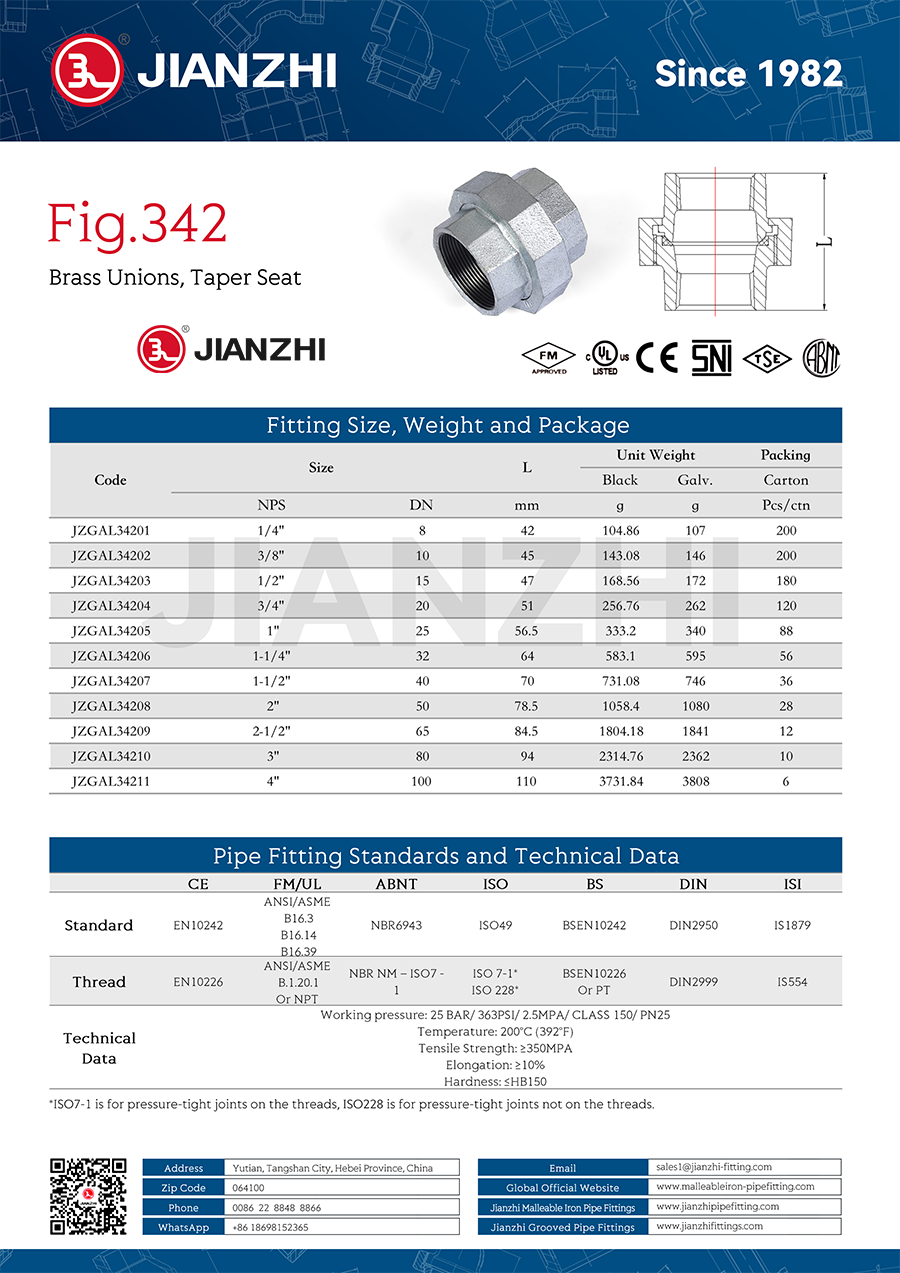 FAQ of Malleable Iron Pipe Fittings
What is malleable iron pipe fittings
Malleable cast iron fittings are designed according to the EN 10242 standard and available in black and hot-dip galvanized versions. They are threaded according to EN 10226-1. The material ensures resistance against mechanical stress and long durability.
Can you weld malleable iron pipe fittings
Malleable iron cannot be successfully fusion welded and retain its unique properties,in the act of welding you will convert some of the malleable iron casting into a gray iron casting.
How are malleable iron pipe fittings made
Malleable iron fittings are made using the most sophisticated metallurgical and processing controls.
What Is the Difference between Black Pipe and Galvanized Pipe?
Steel (also known as "black pipe") and galvanized pipe fittings found in residential and commercial plumbing are usually cast and are referred to as "malleable cast iron fittings." They can be galvanized, although the standard lists threaded fittings of considerable diameter. These tools are not normally used today as threading large diameter pipes is often considered unnecessarily difficult.
What is the difference between forging iron and malleable iron pipe fittings?
Malleable Iron Fittings offers quality Black and Galvanized Malleable Fittings imported from the finest manufacturers around the globe.
Jianzhi has about 4,500 employees and more than 350 technical engineers with distributors covering over 100 countries around the world, like Cannada, Vietnam, Kenya, UK, N.E, NZ, and etc.Contact us, and get Malleable iron fittings catalog.