Maximum Pressure: 25 BAR (363PSI) (2.5MPA) CLASS 150

Maximum Temperature: 200°C (392°F)
Tensile Strength: 350MPA
Hardness: HB150 (Brinell)
Elongation Rate: 10%
Suitable Applications: Water, Oil, Gas, Petro-Chemical
Material: Malleable Iron
elbow pipe fitting description
Elbow pipe fittings are designed to change the direction of flow in a piping system. They feature a curved bend that allows pipes to be connected at different angles, typically 90 degrees or 45 degrees. These fittings are crucial for directing the flow of fluids or gases in plumbing systems, irrigation systems, and various industrial applications.
90 Degree elbow
90 Degree elbow is installed between the pipe to change the direction of the pipe by 90 Degree. Available in long and short radius form.
The 90° elbow is also called a "90° ell" (pronounced like the letter "l") or sometimes a "quarter bend" because the right angle at which flow is redirected is one-quarter of 360°.
The 90° elbow is used in spaces that require a major turn. although this may be a necessity, the flow rate and pressure within the pipe is affected. just as with any piping system, the material under pressure hits The elbow and would like to continue in the same direction. when it meets the resistance of the elbow wall, it is forced to change direction (deflected) at a cost to the pressure.
Elbow 90° Equal Male Or Female JIANZHI Galvanized Malleable Iron Pipe Fitting.
Elbow is mainly used to connect two equal diameter pipes perpendicular to each other at the right angle bend of the pipe, and the different diameter elbow is connected with two different diameters perpendicular to each other so that the vertical pipes can be effectively and reasonably linked together.
Application: Water Disposal, Electric Power, Ship Building, Nuclear Energy, Garbage Disposal, Natural Gas, Petroleum Oil.
Surface: Galvanized
Inner: Lining Plastic Pipe Fittings
As a Galvanized Pipe Fittings manufacturer, we specialize in producing elbow pipe fittings made from galvanized steel. Galvanized pipe fittings are commonly used in plumbing and industrial applications due to their durability, corrosion resistance, and ease of installation.
Our galvanized pipe fittings are available in various sizes and configurations to accommodate different pipe diameters and angles. They are designed to provide a secure and leak-free connection, ensuring the smooth and efficient operation of the piping system.
Our elbow sizes are Iron Elbow 1/8, Elbow M/F 1/4, Elbow M/F 3/8, Elbow M/F 1/2, Elbow M/F 3/4, Elbow M/F 1". We keep a selection of 90 degree elbow pipe fittings in stock. If the size you are after is not listed please contact our sales team for availability.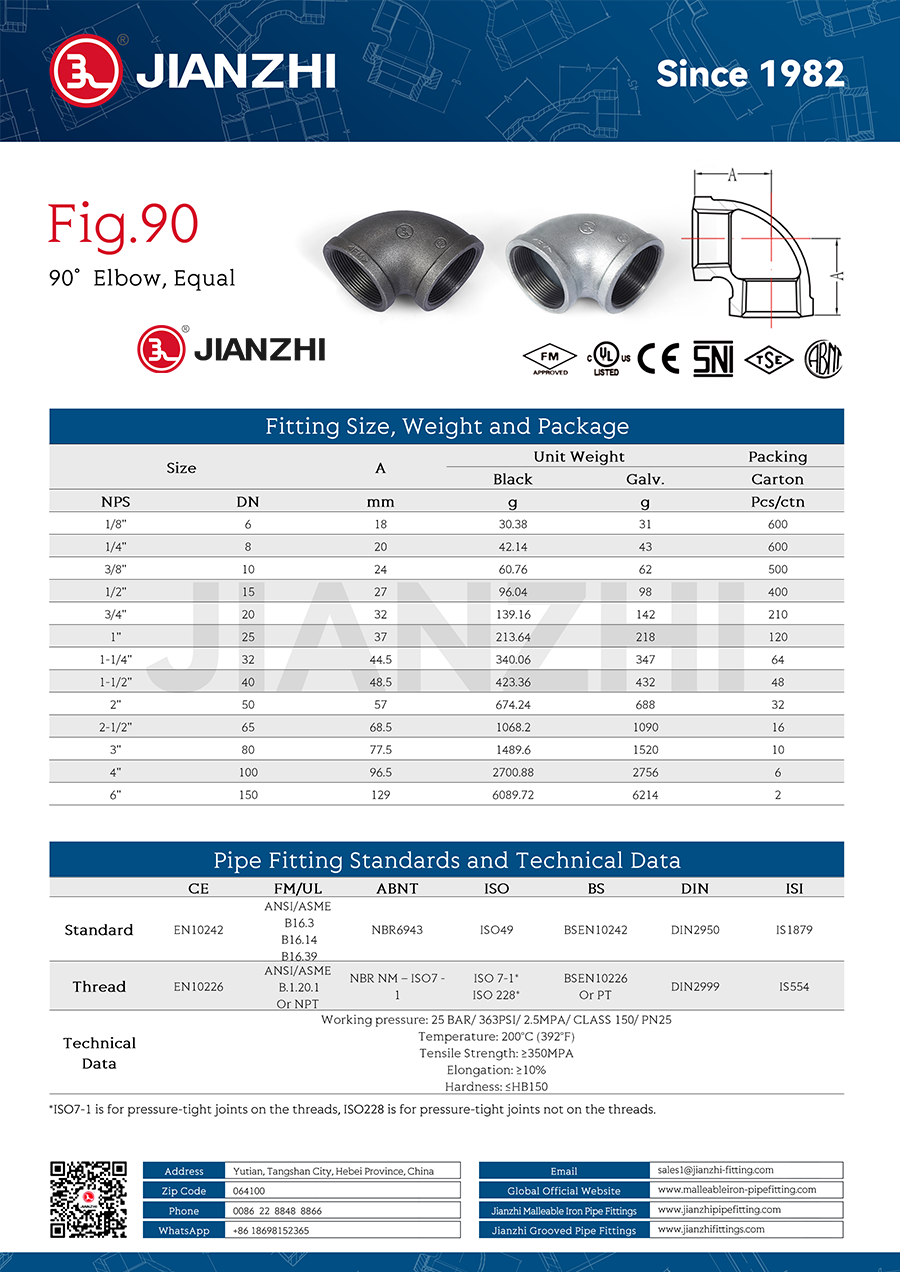 Overall, our expertise lies in producing durable and corrosion-resistant galvanized elbow pipe fittings that contribute to the efficient and reliable functioning of plumbing and industrial systems. Choose JIANZHI, choose quality fitting!