Elbows are mainly used to connect two pipes. It is a pipe fitting that can change the direction of pipes.
According to the angle of the direction of the elbow, the elbow is divided into a 90-degree elbow, 45-degree elbow, 180-degree elbow (return elbow), and any angle elbow.
Do you need to see types of elbow pipe pricing
The material and manufacturing process, it is mainly divided into the following categories:
---
1. Malleable iron elbow
The malleable iron elbow is the most common threaded elbow.
The specifications of malleable iron elbows are relatively small, and the commonly used specifications range from 1/2 to 4 inches. According to their different surface treatments, they are divided into two types: galvanized and non-galvanized
JIANZHI Black Malleable iron Elbow JIANZHI Gi Malleable iron Elbow
Malleable steel pipe fittings have low strength and hardness, but good plasticity and toughness. They are used for parts with small load and high impact and vibration. It is mainly used for heating, upper and lower water pipes and gas pipes.
2. Pressed elbow
Pressed elbows, also known as stamped elbows or seamless elbows, are formed by pressing high-quality carbon steel, stainless acid-resistant steel and low-alloy steel seamless pipes in a special mold.
• The bending radius of the long radius elbow is 1.5 times the nominal diameter (R=1.5DN), which is used in places where the pressure is high or the flow rate is high. In the low-pressure fluid or where the elbow is limited, the short radius elbow with a bending radius equal to the nominal diameter (R=1DN) is used.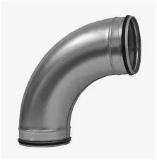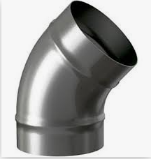 long radius elbow short radius elbow
• Its specification range is within DN20~600mm.
• The wall thickness range is the same as that of seamless steel pipes. • Pressed elbows are generally stamped and processed by professional manufacturers or processing plants with standard seamless steel pipes. Both ends of the elbows should be beveled before leaving the factory.
3. Stamped Welded Elbow
Stamping and welding elbows are formed by stamping a half-ring elbow from a plate through a die, and then welding the two half-ring elbows together. Its bending radius is the same as that of seamless pipe elbow, and its specification range is more than 200mm in nominal diameter.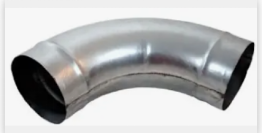 4. Welding elbow
There are two ways to make welded elbows:
• One is to use steel plate as the raw material, then cut and roll it and weld in the processing plant. Most of them are used for the matching of steel coiled pipes.
• The other is to use pipes as raw materials, and then form them by assembling and welding. Its specifications are generally above 200mm. The use temperature cannot be higher than 200℃, and it can generally be produced on the construction site.

5. High pressure elbow
High-pressure elbows are forged from high-quality carbon steel or low-alloy steel.
According to the form of pipe connection, both ends of the elbow are machined into threads or grooves. Its processing precision is very high, and it is required that the thread of the nozzle and the flange can be closely matched, and can be freely screwed in without loosening.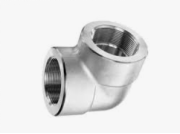 It is suitable for petrochemical pipelines with pressures of 22.0 MPa and 32.0MPa, and the commonly used specifications range from DN6 to 200mm.
JIANZHI Top of China Large Manufacturer of cast iron pipe fitting. 20-year experience in manufacturing cast iron products, including Malleable Iron Pipe Fittings, Grooved Pipe Fittings to Provide You With High-quality Products.
Meet Quality Standards, such as FM Certificate, UL Certificate.
Order Now! 24 Hours Online Service.