Hebei Jianzhi Casting Group Co., Ltd., our company specializes in supplying malleable iron pipe fittings and grooved pipe fittings. There are many types of pipe fittings, but the most common one is the malleable iron pipe fitting elbow.
It can be divided into different types depending on the angle of the elbow, such as 90-degree elbows, 45-degree elbows, Y-shaped elbows, etc.
Depending on the diameter of the interface, there are equal elbows and reduced elbows.
Based on the thread position, it can be divided into female threaded elbows, male threaded elbows and male and female threaded elbows.
Depending on the surface treatment method, it can be classified as hot-dip galvanized elbows (gi elbows) or black elbows.
This article describes the production process of malleable cast iron elbows. There are a total of 10 production processes.
---
Molding, melting, pouring, annealing, polishing, correcting, grinding, scraping, galvanizing, threading, pressure test, packing.
Unlike elbows made of other materials, malleable cast iron elbows are produced by casting. The mold construction and pouring process are more technically demanding. An annealing process is also necessary in order to eliminate the stress inside the elbow. An imperative factor affecting the quality of the malleable cast iron elbow is the annealing process. An improved annealing process has been developed at Jianzhi Group, ensuring 100% annealing success.
You can click on the video link below to learn more about the production process in more detail for your convenience.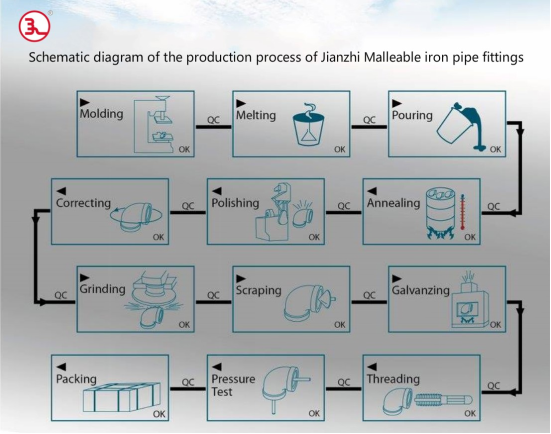 Video Show of How are Pipe Elbows Made:
Time navigation is as follows:
00:00:00 -- Start, Factory exterior display.
Roleplay: An elbow pipe fitting as the first person, tell the whole production process.
00:00:51 -- Received the Order and Schedule the production.
00:01:21 -- Raw Material Selection.
JIANZHI Pipe Fittings choose raw material strictly, more than two screenings are required, in order to remove impurities on the surface of raw materials, improve the quality of molten iron after smelting.
00:01:58 -- Smelt
100% melting by electric furnace.
Save cost, keep temperature stable.
C SI analyzer monitor data.
00:02:20 -- Mold Manufacturing Workshop.
All molds of the pipe fittings are made by self. JIANZHI has an independent CNC machining workshop.
00:02:25 -- "Sand Core" Workshop.
The sand core is made of first-grade water-washed sand to ensure the surface quality of the pipe fittings.
00:02:51 -- Modeling, DISA Line.
11 DISA Automatic Modeling Production Lines imported from Denmark.
00:04:54 -- Pouring+Test Surface Quality.
00:07:10 -- Annealing.
Tunnel annealing furnace and electric annealing furnace.
Continuous combustion and continuous operation are adopted and the furnace temperature is automatically controlled by a computer, which not only saves manpower and material resources to meet environmental protection requirements but also ensures qualified quality.
00:09:10 -- Polishing.
00:11:26 -- Correction, Grinding, Trimming + Product Inspection.
00:18:45 -- Electro-galvanized Workshop + Product Inspection.
00:24:41 -- Polishing and Hot Dip Galvanized + Product Inspection.
00:26:19 -- Threaded Workshop.
00:27:34 -- Inspection of pipe axis included angle and base surface inspection demo.
00:29:56 -- Air Tightness Test Inspection.
00:31:56 -- Packing.
00:32:53 -- Warehouses.
00:32:23 -- The End.
Welcome to inquiry Pipe Elbows from JIANZHI.