Grooved Fittings for Fire Fighting System: Type and Function
View JIANZHI Fire Fighting Grooved Fittings
Grooved pipe connection technology, or clamp connection technology, has become the first for liquid and gas pipeline connections. Although this technology entered China relatively late, due to its advanced technology, it was quickly adopted by the domestic market. It has been researched and developed since 1998. After just a few years of development and application, it has gradually replaced the two traditional pipeline connection methods of flange and welding. Not only is the technology more mature, but also widely recognized by the market, and it has been actively guided by national laws and regulations.
Fire sprinkler pipe and related fittings are generally made of carbon steel or ductile iron material and used to carry water or other liquid to connect firefighting equipment. It is also called fire protection pipe and fittings. According to the corresponding rules and standards, the fire pipeline need to be red painted, (or with red anti corrosion epoxy coating), the point is to separately with other pipeline system. Since the fire sprinkler pipe usually installed in a static position, it requires a high level and restrict quality control.
The application of grooved pipe fitting connection technology makes the complex pipe connection process simple, fast and convenient. A big step forward in plumbing technology.
The following video shows the grooved pipe fittings more intuitively:
There are many types of grooved fittings, and different types of fittings have different functions.
---
1. Grooved pipe fittings are mainly divided into the following categories:
Elbow categories: including 90° elbow, 45° elbow, 22.5° elbow, 11.25° elbow, and other angle elbows; one notable specialty with the grooved elbow is a "Drain Elbow", which has the elbow except it includes a drain outlet at the bend of the elbow. This is used all the time with fire department connections that come down a wall and need to be capable of being drained (to avoid having water-charged pipe freeze and burst).
Tee type: including regular tee, groove reducing tee, thread reducing tee, medium and large tee, etc.;
Four-way type: including the positive cross, groove reducing cross, thread reducing cross, etc.;
XGQT10

Grooved Cross Reducing





Mechanical tee: including grooved mechanical tee, threaded mechanical tee, grooved mechanical tee, wire-connected mechanical tee, machine three lower pieces, U-shaped wire-connected mechanical tee, etc.;
Reducer: Reducing fittings, which is a concentric, single-cast piece of metal that has a large groove on one end and tapers down to a smaller groove on another end. One note of caution is using these in the vertical orientation; It is much better, more stable, and stronger to use a reducing-fitting as opposed to a reducing-coupling when in a vertical orientation. It is including groove concentric, thread concentric, groove eccentric thread eccentric, etc.;
Flanges: including single-piece flanges (also called flange pipe clips, split flanges, flange sheets, etc.), short-pipe flanges (also called conversion flanges, grooved short pipes, high-neck flanges, etc.);

Pipe plugs: including blind sheets (also called pipe plugs, blind plates, etc.).
Grooved pipe joints: mainly rigid pipe joints, flexible pipe joints, etc.

---
2. Surface
The surface of the grooved pipe fittings in the fire protection system will be treated with red dipping paint, on the one hand for rust prevention, and on the other hand for easy identification (red represents fire protection).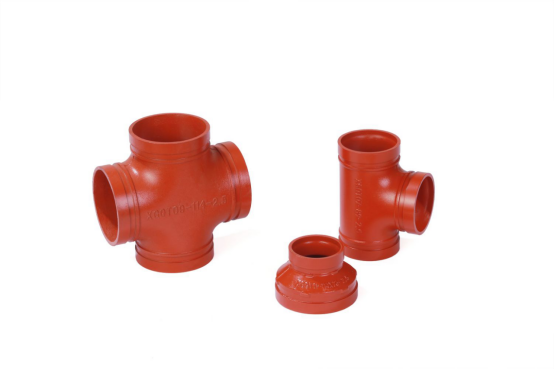 ---
3.
Rubber seals
Design principle:
The sealing ring used in the grooved pipe joint realizes the sealing performance of the system by increasing the pressure. From the cross-section, it belongs to the "C" type design. The higher the pressure, the better the sealing performance.
Rubber material:
The material used for the sealing ring can be determined according to the medium conveyed by the pipeline, and different materials have different letter codes on the sealing ring. For example, EPDM rubber (code E, black) is usually used in fire engineering systems; silicone rubber (code S, the sealing ring material of the pressure cooker, is milky white) for drinking water; Nitrile rubber (code D, orange); natural rubber (code N, black). Among the products currently provided by Jianzhi Group to customers, they are mainly used in fire protection engineering and water supply engineering, so EPDM rubber rings and silicone rubber rings are commonly used.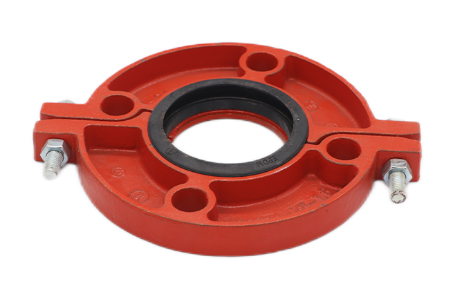 Fittings in black EPDM

---
4.Rigid and flexible coupling
The pipe joint is an important part of the entire pipeline system and is the connector of the grooved pipe fittings. It is mainly divided into two types: rigid clamps and flexible clamps. Both will be used in the fire protection system. In order to avoid user selection errors, it is necessary to explain the difference between rigid clamps and flexible clamps and flexible clamps in detail.
The difference between rigid coupling and flexible coupling:
The characteristic of the rigid pipe joint is that the two adjacent pipe ends connected by it will not have the relative axial angle change and the displacement on the axis. This kind of pipe joint is mainly used in the riser pipe, empty rack pipe and other positions of the pipeline system.
The characteristic of the flexible pipe joint is that a certain relative angle and deflection are allowed in the axial direction of the two adjacent pipe ends connected by it. The allowable angle variable is related to the size of the pipe mouth, so it is also called a flexible joint. This kind of pipe joint is mainly used for buried pipes or large-diameter pipes, because the buried pipes have different degrees of ground settlement in different sections, and the bottom surface of the trenches dug for laying the pipes is not necessarily flat, which will make the two adjacent sections of pipe are not on the same level, and the flexible pipe joint can completely solve this problem because it can have axial deflection.
Use in fire protection systems:
Grooved fittings are often used for pipes in fire fighting systems. It is not uncommon for both mains and branch lines to be grooved today.
1)Rigid joints can be widely used in indoor fire pipelines with little temperature difference. However, a certain number of flexible joints should be installed in the middle section of the long straight pipeline to compensate for a small amount of thermal expansion of the long straight pipeline section and ensure the safe operation of the entire pipeline system.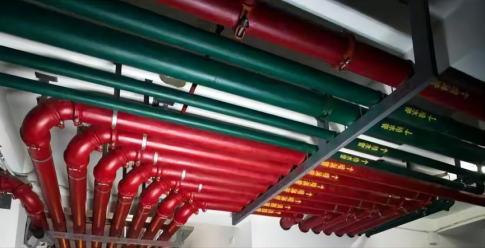 Indoor fire pipeline
2)It is recommended to use flexible joints for pump room piping to reduce noise and weaken vibration transmission.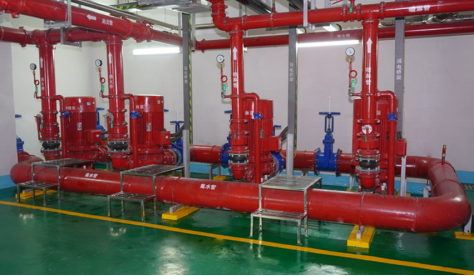 Pump room piping

3)The buried pipelines in the fire protection system should adopt flexible joints, which can effectively deal with the local deformation of the pipeline system caused by uneven settlement.
4)For the connection of small arc-shaped pipes, flexible pipe joints must be used. It can be assembled according to the straight pipe first, and then the pipe can be turned to make it reach the predetermined angle. However, in any case, the angle of rotation shall not exceed the value specified in the specification of grooved pipe fittings.
---
5. Summarize
The construction of a fire-fighting system pipeline is a huge and complex project. This article only briefly introduces the types and functions of grooved pipe fittings for fire-fighting systems. If you're looking to explore the extent of all available grooved fittings, I'd invite you to check out JIANZHI's catalogs for grooved pipe fittings. The JIANZHI's grooved fittings data can do a whole lot of good in clarifying what's been created and listed for use in firefighting systems. If want to learn more, you can also continue reading other articles on this site. Of course, if you are interested in our grooved pipe fittings, please contact our salesmen through the contact information displayed on this website. Our salesmen will give you professional answers.
JIANZHI provides fire sprinkler pipe and fittings, products approved by UL and FM. If you have any requirements or any doubts we can be helped, just contact us.