As a manufacturer of pipe fittings, JIANZHI are fully aware of the differences between ductile iron and malleable iron. If you would like to know too, please read on!
ASK FOR Ductile Iron or Malleable Iron Pipe Fitting PRICE


The key manufacturers of Malleable Cast Iron pipe fittings and ductile iron pipe fittings, flanges, elbows, tees, reducers, heads, manholes and other pipe fittings, full specifications, in stock! Flange pipe fittings factory material good, good technology, support the heterogeneous custom!
Malleable Cast Iron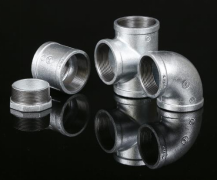 1. Overview of malleable cast iron
Malleable cast iron, abbreviated as malleable iron, is the primary material of Jianzhi malleable iron pipe fittings.First, malleable iron is poured into white iron castings and then subjected
to malleable annealing (the malleable annealing decomposes the cementite into flocculent graphite) to obtain malleable iron castings. The chemical composition of malleable cast iron
is: wC=2.2%~2.8%, wSi=1.0%~1.8%, wMn=0.3%~0.8%, wS≤0.2%, wP≤0.1%.
Contact the manufacturer of ductile iron and malleable iron fittings for professional answers
Malleable Iron Pipe Fittings catologs
There are two types of organization of malleable iron:
(1) Ferrite (F) + flocculent graphite (G);
(2) Pearlite (P) + flocculent graphite (G).
2. The properties and uses of malleable cast iron
(1) The properties of malleable iron
The cutting performance of white cast iron is abysmal. Still, after high-temperature tempering, it has higher strength and plasticity and can be cut because the graphite in malleable cast iron is in the form of flocs has a small splitting effect on the matrix. Its mechanical properties are higher than grey cast iron, and its plasticity and toughness are good. But, the malleable cast iron cannot be forged. The matrix structure of malleable cast iron differs, with different performances. Among them, black-core malleable cast iron has higher plasticity and toughness, while pearlite malleable cast iron has higher strength, hardness and wear resistance.
(2) Uses of malleable iron
Black-hearted malleable cast iron has low strength, hardness, good plasticity and toughness. It is used for parts with low load and high impact and vibration.
Because of its high strength and hardness, pearlite matrix malleable cast iron is used for critical parts with high load, wear-resistance and specific toughness requirements.
ASK FOR Ductile Iron or Malleable Iron Pipe Fitting PRICE
3. Several general malleable cast irons
(1) Cast iron grades KTH300-06, KTH330-08, KTH350-10, KTH370-12: used to manufacture pipe fittings, low-pressure valves, rear axle housings of automobile and tractors, steering mechanisms, machine tool parts... Jianzhi malleable iron pipe fittings use KTH350-10 as the primary material.
(2) Cast iron grades KTZ450-06, KTZ550-04, KTZ650-02, KTZ700-02: manufacture castings with higher strength requirements and better wear resistance, such as gearboxes, camshafts, crankshafts, connecting rods, piston rings...
(3) Cast iron grades KTB380—04, KTB380—12, KTB400—05, KTB450—07: This is white-core malleable cast iron, which is limited to thin-walled castings and castings that do not require heat treatment after welding. Due to the complicated process, Less application in mechanical manufacturing.
Ductile iron
1. Overview of ductile iron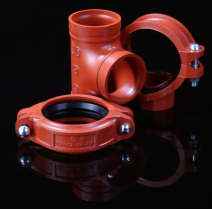 Ductile iron, also known as ductile cast iron, nodular cast iron, spheroidal graphite iron, spheroidal graphite cast iron and SG iron, is a type of graphite-rich cast iron discovered in 1943
by Keith Millis. It is the primary material for building branch grooved pipe fittings.
Nodular cast iron is a high-strength cast iron material developed in the 1950s. Its comprehensive performance is close to that of steel. Its excellent performance has been successfully
used to cast some complex forces, strength, toughness, and durability—parts with high abrasiveness requirements. Nodular cast iron has rapidly developed into a material second
only to grey cast iron and is widely used. The so-called "substituting iron for steel" mainly refers to ductile iron.
2. The performance of ductile iron
Ductile iron castings have almost been used in all major industrial sectors, requiring high strength, plasticity, toughness, wear resistance, severe thermal and mechanical shock, high or low-temperature resistance, corrosion resistance, and dimensional stability. In order to satisfy the different requirements for different products, there are many grades of ductile iron that provide a wide range of mechanical and physical properties. For example, most ductile iron castings specified by the International Organization for Standardization ISO1083 are mainly produced in non-alloyed form. Obviously, this range includes high-strength grades with a tensile strength greater than 800 N/mm2 and an elongation rate of 2%. The other extreme is the high-plasticity grade, which has an elongation more significant than 17%, and the corresponding strength is lower (minimum 370 Newton/mm2). Strength and elongation are not the only basis for designers to choose materials. Other decisive important properties include yield strength, elastic modulus, wear resistance and fatigue strength, hardness and impact properties. In addition, corrosion resistance, oxidation resistance, and electromagnetic properties may be critical to the designer. In order to meet some special use requirements, a group of Austempered ductile iron have been developed. These austenitic ductile irons are mainly alloyed with nickel, chromium and manganese and are listed in internat.
Related JIANZHI Malleable Iron Pipe Fittings
Black Malleable Iron Threaded Fittings Hex Bushing
BSP Black Malleable Iron 90 Degree Bend
FM-UL malleable steel pipe fittings
ABNT-NBR6943 malleable steel pipe fittings
EN10242 malleable steel pipe fittings
For more related products, click here!
Jianzhi strictly controls the cost to ensure a stable supply of high-quality products and fast delivery. if need Ductile Cast Iron and Malleable Cast Iron pipe fittings, welcome to contact us!
ASK FOR Ductile Iron or Malleable Iron Pipe Fitting PRICE