As an advanced pipeline connection method, the grooved pipe fitting connection can be either exposed or buried. There are steel joints and flexible joints. Therefore, it has a wide range of applications.
Table of contents
What are grooved pipe fittings
Before the appearance of grooved couplings, the flexible couplings of metal pipes experienced coupling methods such as welding, threaded couplings, and flanged couplings. Grooved pipe fittings are quick and convenient to install, so they are widely used. Before installing the grooved pipe fittings, it is necessary to use a professional rolling groove machine to make grooves at the pipe ports, and then use a clamp to connect the two ports with grooves. Of course, roll grooving is only performed at the ends of straight pipes. For pipe joints such as elbows, tees, and crosses, grooves have been made during casting. Therefore, grooved products can also be divided into grooved connectors, that is, clamps and grooved pipe fittings.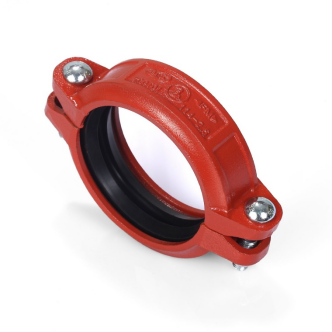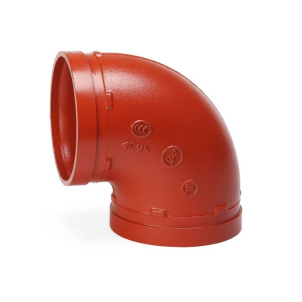 Types of grooved fittings
Grooved pipe fittings are mainly divided into the following categories:
Elbow categories: including 90° elbow, 45° elbow, 22.5° elbow, 11.25° elbow and other angle elbows;
Tee type: including regular tee, groove reducing tee, thread reducing tee, medium and large tee, etc.;
Four-way type: including positive cross, groove reducing cross, thread reducing cross, etc.;
Mechanical tee: including grooved mechanical tee, threaded mechanical tee, grooved mechanical tee, wire-connected mechanical tee, machine three lower piece, U-shaped wire-connected mechanical tee, etc.;
Reducer: including groove concentric, thread concentric, groove eccentric thread eccentric, etc.;

Flanges: including single-piece flanges (also called flange pipe clips, split flanges, flange sheets, etc.), short-pipe flanges (also called conversion flanges, grooved short pipes, high-neck flanges, etc.);
Pipe plugs: including blind sheets (also called pipe plugs, blind plates, etc.).

Grooved pipe joints: mainly rigid pipe joints, flexible pipe joints, etc.

Apron difference of grooved pipe fittings
The sealing ring used in the grooved pipe joint realizes the sealing performance of the system by increasing the pressure. From the perspective of cross section, it belongs to "C" type design. The higher the pressure, the better the sealing performance. The material used for the sealing ring can be determined according to the medium conveyed by the pipeline, and different materials have different letter codes on the sealing ring. For example, EPDM rubber (code E, black) is usually used in fire protection systems; silicone rubber for drinking water (code S, pressure cooker seal material, milky white); nitrile rubber (code D, orange); natural rubber (code N, black). Therefore, in fire engineering, black EPDM rings must be used.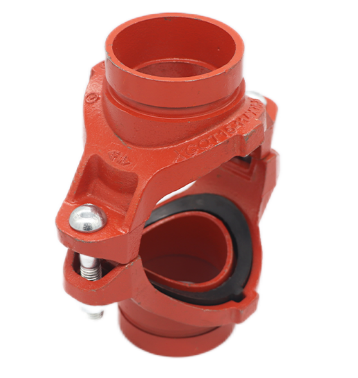 Fire fittings with black EPDM seals

Where to go to import grooved pipe fittings

First, you need to confirm which country you are importing from. The question is simple, China is the best choice. Although the manufacturing history of grooved pipe fittings in China is not long, the manufacturing industry of grooved pipe fittings has developed rapidly in China and has formed a complete manufacturing industry chain. Grooved pipe fittings imported from China are of good quality on the one hand and relatively cheap on the other hand. After determining the importing country, which company should import grooved pipe fittings from?
I would like you to recommend Hebei Jianzhi Group. Jianzhi Group was founded in 1982 and is considered a very old enterprise in China. Jianzhi Group has full-process grooved pipe fittings casting capabilities. In summary, Jianzhi Group has the following advantages:
1. Good quality
a. Excellent quality
Compared with the national standard products, the quality of Jianzhi products is the heaviest, obviously heavier than the national standard products of any manufacturer in China.
b. beautiful appearance
Due to years of molding casting experience and leading technical advantages, Jianzhi products have the best appearance finish in China. Because the molding sand is fine and dense, there are no traces of large sunken sand holes on the surface.
c. Most accurate thread
As mentioned in the thread process above, the pipe thread standard for construction is the most stringent in the industry, and the length and precision of pipe threads are strictly implemented in accordance with national standards. The installation is simple and trouble-free, and the sealing performance is good.
2. The types and specifications of malleable grooved pipe fittings are complete.
We have a good cooperative relationship with many brother factories that produce stainless steel pipe fittings and valves, which can fully meet the needs of customers for one-stop procurement.
3. Sufficient production capacity and stable supply.
The annual production capacity of Jianzhi Group has reached 400,000 tons, and it is the only company in China that can still produce at full capacity without being affected by the national environmental protection policy. Therefore, the products of Jianzhi Group can provide customers with a guaranteed production cycle and delivery cycle, so that customers can avoid the pain of shortage.

If you want to know more, please click the video link below:
https://www.youtube.com/@pipefittings/featured