Malleable iron fittings, like fittings of other materials, hold two pipes together for the transport of gas or liquid.
Cast iron is formed by smelting pig iron into an iron solution and then casting it. It is relatively hard and wear-resistant, but it is very brittle and cannot be forged and can only be used to make steel or cast utensils. Malleable iron is divided into whiteheart, blackheart and pearlitic malleable cast iron. At present, malleable iron produced in China is basically blackheart malleable iron. JIANZHI's malleable iron pipe fittings are also made of blackheart malleable iron.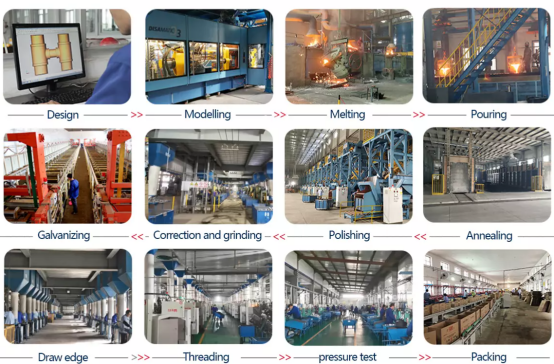 Malleable iron pipe fittings refer to pipe fittings with certain malleability, which is a physical property. It means that the pipe will not break but only deform when it is pressed by gravity such as hammering. It takes a complex process to finally get a high-quality pipe fitting.
The production process of JIANZHI malleable iron pipe fittings has a total of 10 processes, namely: Design, Modelling, Melting, Pouring, Annealing, Polishing, Correction and grinding, Galvanizing, Draw edge, Threading.
The annealing process is a key process in the production of malleable iron. The annealing furnace we use is the most advanced tunnel annealing furnace and electric annealing furnace in China. It adopts continuous combustion and operation and uses a microcomputer to automatically control the furnace temperature. Tubes cool slowly and evenly at 95°C, producing a fine-grained metal structure. This results in a reduction in internal stress and an increase in tensile strength, resulting in good plasticity of the pipe. This is the malleability that is important for metal products.
The grade of malleable cast iron is expressed by the percentage of the minimum tensile strength value (MPa) and the minimum elongation after fracture attached to "KTH". For example, the grade KTH 300-06 represents the black-heart malleable cast iron with the minimum tensile strength of 300 MPa and the minimum elongation after fracture of 6%, which is the national standard requirement. JIANZHI uses KTH350-10. The tensile strength of our products is 10% higher than the national standard, and the elongation is 33% higher than the national standard.
There are many types of malleable iron fittings, and the appropriate shape and size should be selected according to the needs of the pipe during installation.
Such as elbow, which is pipe fitting that change the direction of flow in a pipe.
Coupling and nipple is fitting that acts as connection and helps to lengthen or change the size of pipe. They can be installed anywhere in the pipe except in bends.
Union is also a pipe joint fitting, the difference is that it consists of three parts, which can be easily disassembled and replaced.
Caps and Plugs are installed at the end of the pipe to block flow, remove air blockages, and protect the pipe.
Tee is T-shaped with one main outlet and two branches. It is widely used in piping systems for conveying two mixed flows.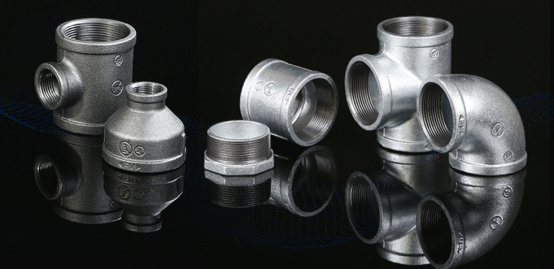 For more knowledge of malleable iron pipe fittings, please pay attention to our website. If you plan to purchase a batch of high quality pipe fittings, please feel free to contact us!