We started selling a selection of black iron pipes and black iron pipe fittings in our online store, get black pipe fittings catalog. Since then, we have learned that many shoppers know very little about this quality material. In short, black iron piping is one of the best options for existing gas piping. It's strong, easy to install, corrosion-resistant, and maintains a gas-tight seal. The black coating helps prevent corrosion.
Get black pipe fittings catalog
Commonly referred to as steel pipe (though not technically accurate), black iron pipe (BIP) can be applied in a variety of manners. Black pipes are most often used to transport natural gas and oil to and from the source to the end user. Compatible with both water and gas, black iron is most widely used for fire sprinkler systems because the piping is so resistant to high temperatures. Black iron fittings can withstand the pressure and hazards associated with running gas lines to your home.
Get black pipe fittings catalog
And the black iron pipe was once used for plumbing, but since the advent of copper, CPVC and PEX, a black iron pipe has become more popular. It's a great choice for oiling for two reasons: 1) it's strong and 2) it's easier to assemble.
Just like PVC, black malleable iron uses a system of pipes and fittings that fit together through compounds rather than welding. Despite its name, the black iron pipe is actually made of a low-grade "mild steel" compound. This gives it better corrosion resistance than traditional cast iron piping.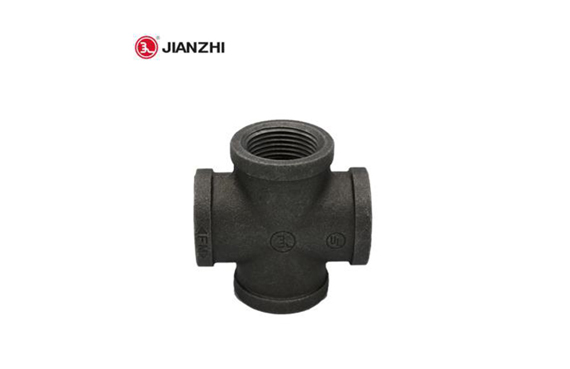 Black Iron Pipe Characteristics
Since this article is about black iron pipe and black iron gas pipe fittings, we will go into some of its features and characteristics. It's important to know this when it comes to the plumbing in your home.
Black iron is one of the toughest materials available, therefore it can be a bit expensive, even with our great pricing, click here to get the price.
Black Iron Piping Pressure Limits
"Black iron" is a term that usually refers to a black coated steel, but many different types of black iron pipe exist. The main problem with this is that there are very few standards that all black iron pipes adhere to. However, they are all made to handle natural gas and propane gas, which are typically kept below 60 psi. If installed correctly, the black iron pipe must meet the standards to ensure a pressure rating of at least 150 psi.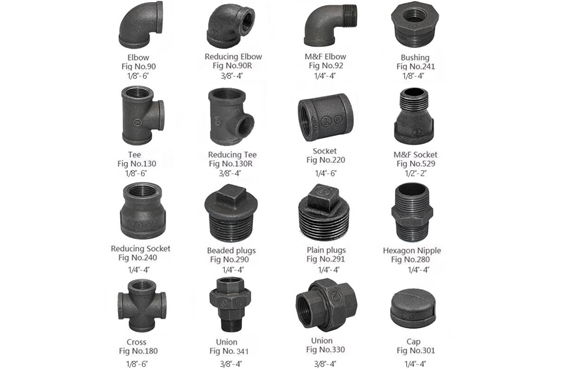 Black Pipe Fittings Catalog
How to install black iron pipes?
One of the main advantages of black iron piping is its malleability. This means that it can be threaded easily. Threaded piping is easy to use because it can be screwed into fittings without having to be soldered. As with any system with threaded connections, black iron pipe and fittings require the use of Teflon sealing tape for an airtight seal. Fortunately, sealant tapes and pipe coatings are inexpensive and easy to apply!
Assembling a black iron gas system requires a little skill and a lot of preparation. Sometimes the pipe will be pre-threaded to a specific length, but sometimes it must be cut and threaded by hand. To do this, you must clamp a certain length of pipe in a vise, cut them to length with a pipe cutter, and then use a pipe threader to create threads on the end. Use plenty of thread-cutting oil to avoid damaging the threads. When connecting lengths of pipe, some type of sealant must be used to fill the gaps between the threads. Two methods of thread sealant are thread tape and pipe coating.

Black Iron Pipe Fittings
How do I use pipe dope?
Pipe dope (also known as "joint compound") is a liquid sealant that oozes between threads to maintain a tight seal. Duct coating is great because it never dries completely, so joints can be unscrewed for maintenance and repair. One drawback is that it can be messy, but usually, duct coating is too thick to drip much.
Duct coating usually comes with a brush or other type of applicator. Use it to completely cover the male threads in a uniform coat of sealant. It is not suitable for internal threads. Once the male threads are completely covered, screw the pipe and fittings together as if you were using thread tape, using a pipe wrench to finish tightening. Some plumbers recommend thread tape with a coating of pipe dope on top, so if you can't decide which you like better, it's worth a try!
In this article, we focus on black iron pipe, but fittings are an important part of any black pipe gas system. JIANZHI sells a wide variety of black extensible fittings and couplings (short, pre-cut, pre-threaded pipe sections) at great prices!
<Select and buy black iron pipe fittings>