Black pipes that are black from the outside. The dark color comes from the iron oxide formed on its surface during the manufacturing process. Black steel pipe is ordinary iron pipe used primarily for gas piping, but also for connecting appliances to supply lines. It is used by businesses and residences to carry natural gas or propane gas supplies.
Black steel pipe is also used in fire sprinkler systems because of its high heat resistance. It is usually connected by welding or using mechanical couplings. It can even be used in place of galvanized pipe for projects other than transporting potable water. Jianzhi provides a black pipe fittings catalog such as cross pipe fittings, such as black pipe elbow, taper seat, etc.
Black iron pipe is actually made of a low-grade "low carbon steel" compound. This gives it better corrosion resistance than traditional cast iron piping. All black iron pipes adhere to very few standards. However, they are all made to handle natural gas and propane gas, usually below 60psi. When installed correctly, the black iron pipe must meet standards to ensure a minimum pressure rating of 150 psi. If you want to get more information about the best black pipe fittings wholesale, welcome to contact us today or request a quote.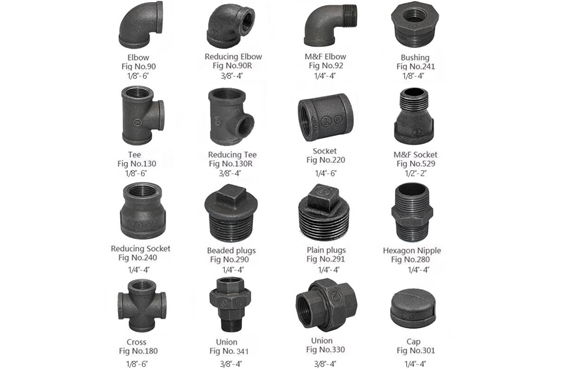 Black pipe vs Galvanized pipe
1. The coating is different.
Black pipe is made of steel, as is galvanized pipe. The difference is that galvanized pipe is coated with zinc, while the black pipe is not.
2. The corrosion resistance is different
Black pipe is a light coating that provides only the simplest protection. The black pipe will rust outdoors. Galvanized pipe hardly rusts.
3. Different costs.
Black pipe is cheaper than galvanized pipe because of the zinc added to the galvanized pipe.
4. Different applications
Black pipe is best used for gas piping rather than water piping because it rusts easily, while galvanized cannot be used for gas piping because the zinc starts to flake off and clogs the pipe.
To learn more about our current selection of black pipe for sale or to learn more about our galvanized steel distribution services, please feel free to contact us.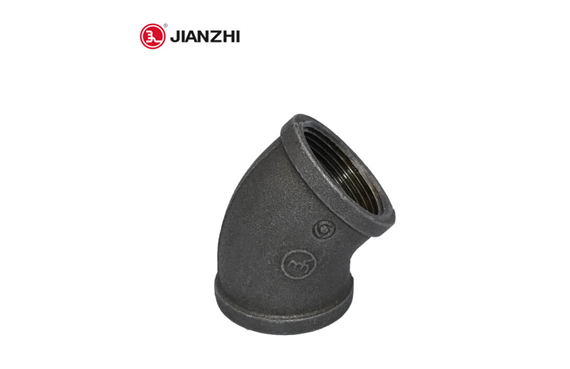 45 Degree Black Iron Elbow Fitting
Where to buy black pipe?
Black steel pipe and tubing are easy to manufacture, readily available, and costs less than most other metals. The life expectancy of black steel pipe is 50 to 100 years in a well-protected environment.
As a professional malleable iron pipe fittings and grooved pipe fittings manufacturer in China, Jianzhi has passed the FM, UL, ABNT, TSE, CE, SNI, ISI. We supplied our pipe fittings to many Chinese famous buildings, such as the CITIC Tower, Beijing Daxing International Airport, National Exhibition and Convention Center(Shanghai). In China, there are more than 4,305 manufacturers in the metal industry, but only more than 20 manufacturers can manufacture 100,000 tons per year. Hebei JIANZHI Casting Group is the leading enterprise with the most outstanding strength.
Two mass production bases in Hebei and Inner Mongolia, with more than 11 DISA MATIC production lines and other advanced automation and Laboratory testing equipment, strict quality control with ISO9001, environment control with ISO14001. Sufficient capacity and stable delivery help Jianzhi to get more and more customers from all over the world. and establish long-term cooperation. Welcome to visit our company. Jianzhi, your trusted gold supplier.