Malleable iron pipe fittings are popular in the plumbing and pipework industries because of their durability, temperature resistance, and ability to withstand high mechanical stresses. Once galvanized, these types of fittings can be used safely in a wide range of applications due to standard jointing technology.
Shock and corrosion resistance and mechanical strength are among the benefits of malleable iron pipe fittings. Using galvanized fittings galvanized with pure zinc makes it possible to transport drinking water. Narrow threads reduce leakage risk since they seal pipes more tightly.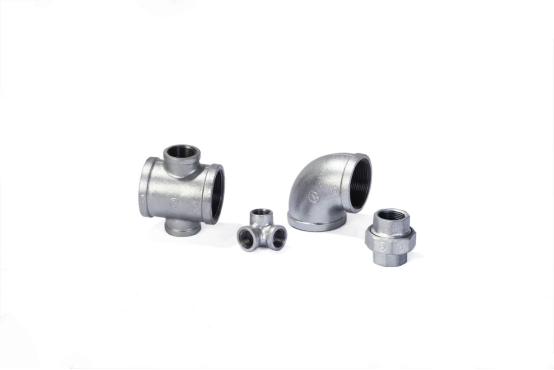 Galvanized Malleable Pipe Fittings
Classification
From 1720 to 1722 AD, the French Reaumur invented the white-hearted malleable iron production method, later commonly referred to as the "European method". In 1982, American Seth Boyden decomposed Fe3C in white cast iron through accidental heat treatment, so that flocculent graphite + metal matrix was precipitated. The malleable iron he obtained at that time had a ferritic matrix. This method is commonly referred to as the "American Method" black-hearted malleable iron.
1. u White-heart malleable cast iron: The outer layer is ferrite, with a small amount of pearlite and flocculent graphite remaining in the center. Its heart port is white, so it is called white heart malleable cast iron. It is limited to the manufacture of thin-walled castings and castings that do not require heat treatment after welding.
2. u Black-heart malleable cast iron: developed from the white-heart malleable cast iron process, the matrix is ferrite + flocculent graphite structure. Good strength, high plasticity and toughness. Now Jianzhi's malleable steel pipe fittings are made of black-heart malleable iron.
3. u Pearlescent malleable iron: malleable iron whose matrix is pearlite + flocculent graphite structure. Compared with black heart malleable iron, it has poor plasticity and toughness.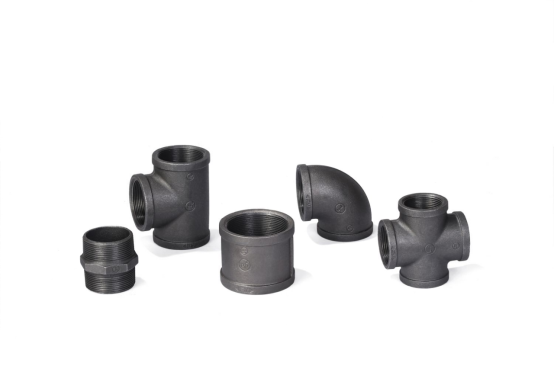 Application
The products are mainly used in water systems, petrochemical systems, gas systems, plumbing systems, and plastic-lined pipe fittings can be used in drinking water systems.
Jianzhi provides high-quality malleable steel pipe fittings and the most competitive prices, welcome to inquire.