GI and MS fittings are widely used in plumbing engineering worldwide. GI pipe fittings are Galvanized pipe fittings, MS pipe fittings are mild steel pipe fittings.
MS pipe fittings are mild steel pipe fittings
Mild steel is steel with a carbon content of less than 0.25%, with low strength, low hardness, and good plasticity and toughness. It includes most ordinary carbon steel and a part of high-quality carbon structural steel. Cold forming can be carried out by means of hemming, bending, stamping, etc. This steel also has good weldability.
Mild steel is the cheapest of all steels and is used in almost any project that requires a lot of metal. Although prone to rust, it is very durable. MS pipe fittings can be painted, varnished, or other metals to protect them from corrosion as much as possible.
Most of those used in engineered structures are not heat treated, usually hot or cold rolled. Some are carburized and other heat treated for mechanical parts that require wear resistance. Because they can be bent and shaped, mild steel is used in parts of many everyday items made of steel, including car chassis and most cookware.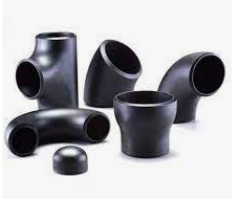 MS Pipe Fittings
GI pipe fittings refer to covering the surface of the pipe fittings with a zinc layer to prevent corrosion and prolong service life.
In the galvanizing process, there are two types of electro-galvanizing and hot-dip galvanizing. Hot dipped galvanized pipe fittings: thick zinc layer, uniform zinc layer on the inner and outer walls, long service life. Electro galvanized pipe fittings: thin zinc layer, smooth and beautiful surface, lower cost, but inner surface zinc layer is too thin.
After years of research and development, jianzhi have made the appearance of electro-galvanized pipe fittings almost indistinguishable from that of hot-dip galvanized pipe fittings. This technology has obtained a Chinese design invention patent.
However, the corrosion resistance of galvanized is also conditional. Under normal circumstances, the zinc layer remains intact, and the corrosion resistance of the pipe fittings will be long. However, if the pipe is kept under acidic conditions for a long time, the zinc layer will have a certain chemical effect with the acid to cause corrosion. But overall, the corrosion resistance of galvanized pipe fittings is excellent.
GI pipe fittings have good corrosion resistance and low maintenance cost, so it is undoubtedly the most suitable type of pipe fittings for large-scale construction projects such as Water & Sewage transportation,Oil & Gas transmission and Fire Water Supply, etc.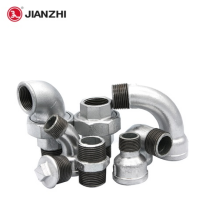 As the largest malleable iron pipe fittings manufacturer in China, we can provide you with the most professional information if you want to know more. Feel free to contact us anytime!