On the evening of March 29, in the conference room on the fourth floor of the Jianzhi Group, the first Jianzhi Craftsman Vocational Skills Competition Commendation Conference and the Third Fifth Congress of the Labor Union Committee of Hebei Jianzhi Casting Group were held. All cadres of the company and employee representatives who won the first and second prizes of the competition participated in this conference. The meeting was presided over by Deputy General Manager Yin Kui.
The general manager of Jianzhi Group and members of the company's core team personally handed out awards and certificates of honour to the winners. Pipe Industry No. 4 Factory, Technology Factory No. 1, and Processing Factory No. 2 won the "Workshop Excellence Award". The casting workshops of the Pipe Industry Factory No. 4 and the No. 2 Processing Factory Suppress No. 6 workshops respectively won the "Workshop Excellence Prize" for each process.
The competition mainly involved 26 types of work and 806 employees participated. After the appraisal, a total of 26 people were awarded the first prize, who was assessed as the honorary title of "Construction Craftsman"; 119 people were awarded the second prize, who was assessed as the honorary title of "Technical Expert"; 240 people were awarded the third prize and were assessed as the "Winners" Honorary titles, a total of 385 people.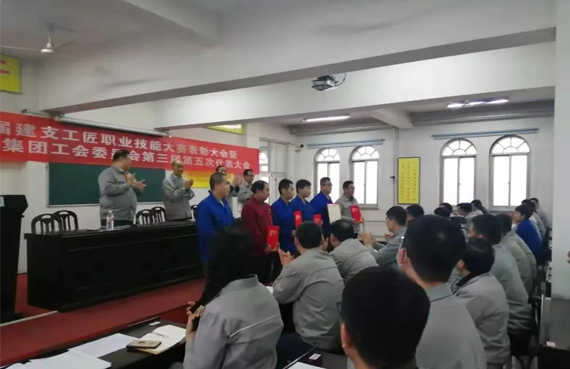 In this competition, the "Factory Outstanding Prize" has a bonus of 2,000 yuan, the "Workshop Outstanding Award" has a bonus of 1,800 yuan, the first prize of 2,000 yuan, the second prize of 1,500 yuan, the third prize of 700 yuan, and the encouragement prize of 100 yuan. A total of more than 460,000 yuan was awarded in the competition.
After the awards were issued, Xu Chengbo, director of the second processing plant, Liu Yingying, director of the sixth inspection workshop, Liu Baoxin, deputy director of the equipment department, and Meng Qingshuang, a worker in the second workshop, took speeches, saying that the results only represent the past and will continue to strengthen learning in the future, Make up for shortcomings, make persistent efforts, and make due contributions to the realization of the "dream of building a support".
Finally, the Third Fifth Congress of the Group's Trade Union Committee formed a consensus to widely publicize, thoroughly implement the spirit of the conference, encourage employees to continue to innovate, strive to improve their skills and strive to be a craftsman in the industry.