Grooved pipe couplings and fttings are used to connect pipes in wet and dry systems. They provide a degree of flexibility for the movement and offset of the piping system. And there are Three points of knowledge about grooved pipe fittings
---
1.The development history and use of grooved pipe fittings:
The grooved pipe fittings originated in the United States during World War II in the last century. This connection method has been successfully used in developed countries such as Europe and the United States for sixty or seventy years. This technology was introduced into China in the late 1980s and early 1990s, and has entered the 21st century, especially since 2002, it has developed rapidly.
Since this product is mainly used in the fire protection system of construction projects, people are used to calling it a fire pipe fitting. In fact, it has many applications, such as building water supply system (including cold and hot water), drainage system, air conditioning system, reclaimed water system, fire protection system; seawater irrigation in aquaculture; petroleum; chemical industry; sewage treatment; Groundwater extraction in the mining industry, etc., it can be said that as long as there are metal pipeline connections, it can be used. At present, except for gas pipelines that have not been widely used, other pipeline systems, especially medium and large diameter (DN80 ~ DN400) pipelines are connected. Grooved connections have been widely used.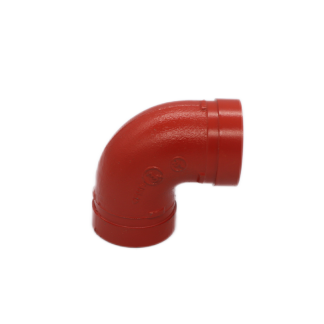 2. Classification of grooved pipe fittings:
a) Selection of shell material: The shell materials of grooved pipe fittings include ductile iron, cast steel or forged steel. Different materials of grooved pipe fittings have different pressure resistance, brittleness and fatigue resistance. Reasonable selection according to the actual needs of the project.
b) Groove Finish: Red Dipped Painted, Blue Dipped Painted, Grey Dipped Painted, Epoxy Blue/Red, Galvanized (Hot Dipped and Electroplated)
c) Ductile Iron Grooved Fittings Size Range 1"(32mm)-12"(325mm)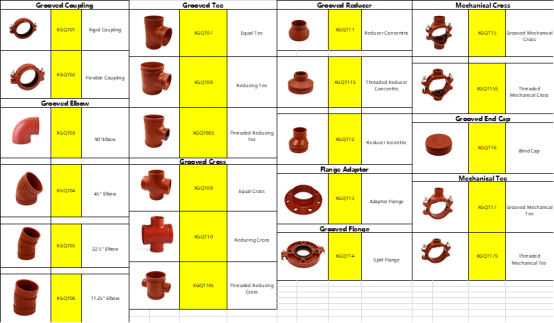 3. Rubber sealing ring of grooved pipe fitting
The sealing ring used in the grooved pipe fitting realizes the sealing performance of the system by increasing the pressure. From the cross-section, it belongs to the "C" type design. The higher the pressure, the better the sealing performance. The material used for the sealing ring can be determined according to the medium conveyed by the pipeline, and different materials have different letter codes on the sealing ring. For example, EPDM rubber (code E, black) is usually used in fire engineering systems; silicone rubber (code S, the sealing ring material of the pressure cooker, is milky white) for drinking water; Nitrile rubber (code D, orange); natural rubber (code N, black). The products our company currently provides to customers are mainly used in fire protection engineering and water supply engineering, so EPDM rubber rings and silicone rubber rings are commonly used.