Where to buy malleable pipe fittings?
When it comes to purchasing malleable pipe fittings, importing from China can provide a number of advantages. Here are some reasons why you may want to consider buying malleable pipe fittings from China:
1. Cost-effectiveness: China has long been known for its cost-effective manufacturing, and this is certainly true when it comes to malleable pipe fittings. By importing from China, you can often get high-quality fittings at a lower cost than you would be able to find elsewhere.
2. Wide range of options: Chinese manufacturers offer a wide range of malleable pipe fittings, including different materials, sizes, and designs. This means that you are likely to be able to find exactly what you need, whether you are looking for a specific size or a unique design.
3. Quality assurance: While some may be concerned about the quality of products from China, many Chinese manufacturers have implemented rigorous quality control systems to ensure that their products meet international standards. Additionally, many manufacturers have obtained relevant certifications, such as ISO 9001 or CE, which can provide additional peace of mind when purchasing malleable pipe fittings.
4. Efficient logistics: With the development of modern logistics and transportation systems, it is now easier than ever to import products from China. Many Chinese manufacturers have established relationships with international logistics companies, which can help to ensure that your malleable pipe fittings are delivered quickly and efficiently.
5. Customization: Chinese manufacturers are often willing to work with customers to customize their products to meet specific requirements. This means that if you have a particular need or design in mind, you may be able to work with a Chinese manufacturer to create a malleable pipe fitting that meets your exact specifications.
Overall, importing malleable pipe fittings from China can provide a cost-effective and efficient way to source high-quality fittings. With a wide range of options, quality assurance systems, efficient logistics, and customization options, it is no surprise that many businesses choose to import malleable pipe fittings from China.
China Jianzhi Group is a professional manufacturer of malleable pipe fittings in China. The company has been in the industry for over 20 years and has a strong reputation for producing high-quality products.
If you are looking to buy malleable pipe fittings in China, Jianzhi Group is a great choice. The company offers a wide range of products, including elbows, tees, sockets, caps, and more. All of their products are made from high-quality materials and are designed to meet international standards.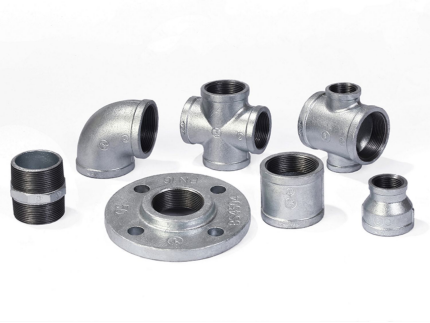 Malleable pipe fittings of Jianzhi Group
In addition to their extensive product line, China Jianzhi Group also has a strong commitment to customer service. They have a team of experienced professionals who are dedicated to helping customers find the right products for their needs. They also offer competitive pricing and fast shipping to ensure that customers receive their products in a timely manner.
If you are looking for a reliable supplier of malleable pipe fittings, look no further than China Jianzhi Group. With their extensive product line, commitment to quality, and excellent customer service, they are the perfect choice for anyone in need of these essential products.