Steel pipes are produced by two different methods, which ultimately result in either welded or seamless tubes. In both methods, raw steel is first cast into a more workable initial form. It is then made into a tube by stretching the steel into a seamless tube or by pressing the edges together and sealing them with a weld. The earliest method of producing tubes was introduced in the early 1800s and has steadily evolved into the modern process of today. Next, the pipe fitting supplier will explain the differences between black steel pipe and carbon steel pipe.
What is a black steel pipe?
Black steel pipe is made from steel that is not coated with a base material such as zinc or paint. It is called a black steel pipe because it has a dark surface formed by iron oxide during the manufacturing process. Black pipe fittings, also called black malleable iron fittings, are used to transport gas and water. They connect to black iron and black steel pipe and form a tighter seal than black steel fittings.
Characteristics of carbon steel pipe
The amount of carbon contained in steel determines its characteristics. Steel is considered carbon steel when there is no specified or required minimum content of chromium, cobalt, niobium, molybdenum, nickel, titanium, tungsten, vanadium or zirconium or any other element added to obtain the desired alloying effect; when the specified minimum value for copper does not exceed 0.4%; or when the specified maximum content of any of the following elements does not exceed the stated percentage: manganese 1.65%, silicon 0.6%, copper 0.6%. The majority of steel produced worldwide is carbon steel.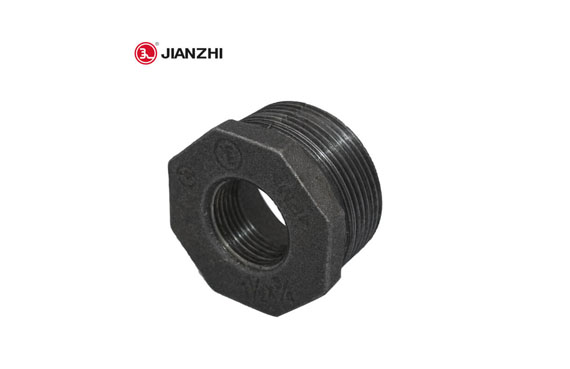 Black Pipe Fitting
What are the applications of black steel pipe?
Black steel pipes have a variety of uses due to their strength and the fact that they require little or no maintenance. They are often used to transport natural gas and water to rural and urban areas, or to protect power lines and pipelines that carry high-pressure steam and air. In addition, black steel pipe is used in the oil and petroleum industry for transporting large quantities of oil through remote areas. Other uses of black steel pipe include gas distribution inside and outside the home, water wells and sewage systems.
Applications of carbon steel pipe
Carbon steel pipe was the first and most heavily used base material in modern industry. Industrial countries around the world, while trying to increase the production of high-strength low-alloy and alloy steel, also pay great attention to improving the quality of carbon steel pipe, expanding the variety and range of uses. Carbon steel pipe production in the country's total steel production, the proportion of about 80%, not only widely used in construction, bridges, railroads, vehicles, ships and various types of machinery manufacturing industry, modern petrochemical, marine development, but also a large number of applications.
What is the difference between black steel pipe and carbon steel pipe?
Generally speaking, the welding procedure of black steel pipe and carbon steel pipe is almost the same. That is in the case of general welding, not in some specific applications, such as very cold temperatures. Black steel pipe is not really a specification, but a generic term used primarily by plumbers to distinguish between regular steel pipe and galvanized steel pipe.
Black steel pipe is cast from a variety of grades of ductile or malleable iron, while carbon steel pipe is usually welded or seamless. Black steel pipe is used for underground or submerged applications and for acid-affected mains and branches. Municipal chilled water lines 4 inches and larger in diameter typically use cast iron pipes and fittings. Unless the pipe is heavy, commercial die-casting is not suitable for lines subject to expansion strain, contraction, and vibration. It is not suitable for superheated steam or temperatures above 575 degrees Fahrenheit. Cast iron pipe in underground applications (such as sewers) usually has bell and socket ends, while exposed pipe usually has flanged ends.