Pipe fittings are components used to connect pipe segments to other fluid control products such as valves and pumps to form pipes. The common meaning of the term fitting relates to the meaning of metal and plastic pipes used to convey fluids. There are other forms of pipe fittings that can be used to connect pipes used for handrails and other construction elements without the need to provide a leak-proof connection. Pipe fittings can be welded or threaded, mechanically connected, or chemically bonded to name the most common mechanisms, depending on the material of the pipe.

There are as many types of pipe fittings as there are standard pipe lengths, including flange, elbow, tee, and plug for the various pipe fittings.
Types of pipe fittings: a variety of pipe fittings including tees and end caps.
There are some inconsistencies in the terminology around the terms 'pipe', 'piping', and 'plumbing'. As a result, the term "pipe fitting" is sometimes referred to in the context of pipes as well as piping. Although they are similar in shape to pipe fittings, they are rarely joined together by methods such as welding. Some methods overlap, such as the use of compression fittings, but while they are common when joining pipes or tubes, they are rarely used in pipe connections. Arguably, despite the general differences, common usage of terms may differ from supplier to supplier, even though they represent the same items.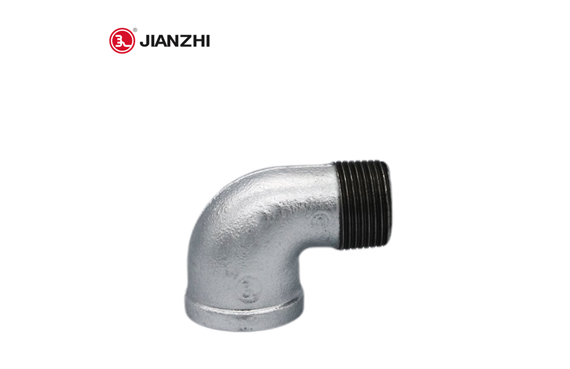 Description of pipe fittings: fitting materials and manufacturing processes
Cast iron and malleable iron
Fittings for cast iron pipes are hubless and flared. The hubless design relies on an elastomer coupler which is fixed to the outer diameter of the pipe or fitting by means of a clamp, which is usually a stainless steel band clamp that compresses the elastomer material and forms a seal. These hubless or wheel-less designs are sometimes referred to as rubber pipe couplings or rubber pipe connectors and are particularly popular in the transition from one material to another (e.g. from copper to cast iron). Today, bell and head or sometimes hub and head fittings are mainly joined together by a resilient gasket that fits inside the bell piece and fits into the common pipe end or fitting insert. older systems prior to the 1950s used a mixture of molten lead and fibrous material (e.g. oakum) for caulking. Cast iron pipes are sometimes flanged by bolting or, in some cases, by mechanical compression. Flanged joints in underground applications can subject the pipe to settlement stresses unless the pipe is adequately supported.
Although both malleable and ductile iron fittings are available, the improved mechanical properties and reduced cost of ductile iron are leading to a move towards the use of this material.
Steel (also known as "black pipe") and galvanized pipe fittings found in residential and commercial plumbing are usually cast and are referred to as "malleable cast iron fittings." They can be galvanized, although the standard lists threaded fittings of considerable diameter. These tools are not normally used today as threading large diameter pipes is often considered unnecessarily difficult.